How The Tin Man Found His Brain
Frank Baum's series of OZ books included a wonderful Tin Man many of us have come to know and love as in, "The Wizard of Oz." He, and indeed all of the four main characters, were in search of something they felt lacking within themselves: a brain; a heart; courage; a feeling of home. As it turns out, they all found that they already possessed the very thing they were questing after, a heart, a brain, courage and a home.
The Tin Man was a sensitive soul, and would indeed start to rust whenever he became emotionally affected, because he would often begin to cry. Yet he was always pursuing the one thing that was most important to him, and which he believed would make him whole, a heart.
Don't we often do the same thing? Seek outside of ourselves what we already possess? The Tin Man is not the only character we will run into within the essays and commentaries found in this book, but others, real and imagined as well. If not on a specific quest, they are nonetheless also seeking in some ways to find resources within themselves.
With a superb storytelling approach, Danute Debney Shaw walks the Tin Man through self-discovery, leading us to a new paradigm for thought and process development in our personal and professional worlds: building courage, confidence, competence and resilience along the way.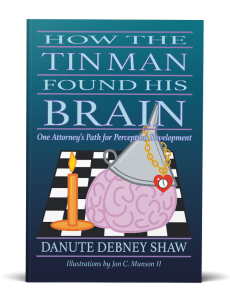 ---
"How The Tin Man Found His Brain"
Erudite, eloquent, inherently engaging, inspired and inspiring, "How the Tin Man Found His Brain: One Attorney's Path for Perceptual Development" is a unique, life changing, life enhancing, and unreservedly recommended addition to personal, professional, community, college, and university library Self-Help/Self-Improvement collections.
– Midwest Book Review
---
"How The Tin Man Found His Brain"
Chapter 12 HOLDING YOUR POSITION… AND YOUR POWER
Page 70:
"It can be very challenging to hold our own power in the midst of the crowd, worse yet if we don't actually understand the crowd, or entirely agree with it. If we have not determined where and how we fit, or do not fit-in with the crowd and why, how are we really a part of it?"
I find this to be a very interesting topic with many roads that lead to many different places. At the end of the roads the difference is not fearing versus not caring. Do people understand what I am saying? Do I change what I am saying so people understand me? Do I worry that they agree with me? Am I really authentic? If you can't be honest with yourself, you can't be honest with others. What road do you WANT to go down? Great points and a great chapter.
– Chris Allaire, President of Averity, a technology recruiting company. New York, New York
---
How The Tin Man Found His Brain with Danute Debney Shaw